Toys are the best way to engage our little ones. They help improve their imagination, creativity, and problem-solving skills. As parents, we always want to do our best for our babies. However, sometimes with so many options available in the market, it can get very overwhelming to decide what is the best toy to buy. As a first-time mother, I had gone through this phase of confusion myself. Hence, I am listing for you my top 7 toys to start with after you become a mother. I hope that this will make the selection process a little easier for you.
Bouncer Seats and Swings
Baby bouncer seats and swings/cradles are great items that many expecting parents include. These toys provide opportunities for your baby to learn different skills. Many are versatile and include features that can be changed, which appeal to a baby's interest over some time. We used Infantso baby rocker & bouncer portable with calming vibrations & musical toy for little Veer and I have so many fond memories of little Veer with his bouncer seat.
Playmats or Play Gyms
First babies might just watch hanging toys or rattles with their eyes. They may see their toy move and be interested in where it is moving to, following it carefully with their eyes side-to-side. You may see them move their arms and bat at the dangling toys. Your baby needs tummy time and play gyms are perfect for that. EYESIGN 2 in 1 Baby Kick and Play Piano Gym Mat and SILENCIO Double-Sided Waterproof Baby Mat was what I used for my son, Veer. Chose these because they looked great and weren't very expensive
Rattles
Babies love rattles. There are so many kinds of rattles. Some rattles make noises or have blinking lights. Others have soft textures, while many are made from hard plastic. Rattles should be light, soft, and easy for your baby to handle or hold in their hand. Also, look for toys that can easily be cleaned from spit-up and drool. These are some great rattles that you can choose from Techno Buzz Deal Colourful Plastic Non-Toxic Set, Toyshine Pack of 5 Rattle Set, and Whiskey 10 Pcs Combo Pack of Plastic Shake & Grab Rattles and Chu Chu Animal Shape Bath Toys.
Flashcards
Flashcards are great for so many reasons. They improve imagination, vocabulary, concentration, and communication skills. I introduced my son, Veer to flashcards when he was just 3 months old and by the time he learned how to speak, he could recognize more than 300 cards correctly. I used Great Flash Cards and Great Flash Cards – Kit 2 for my son. These are super attractive, clean, and also have an option to color on the backside. They are travel-friendly and easy to carry on picnics too. 
Soft Books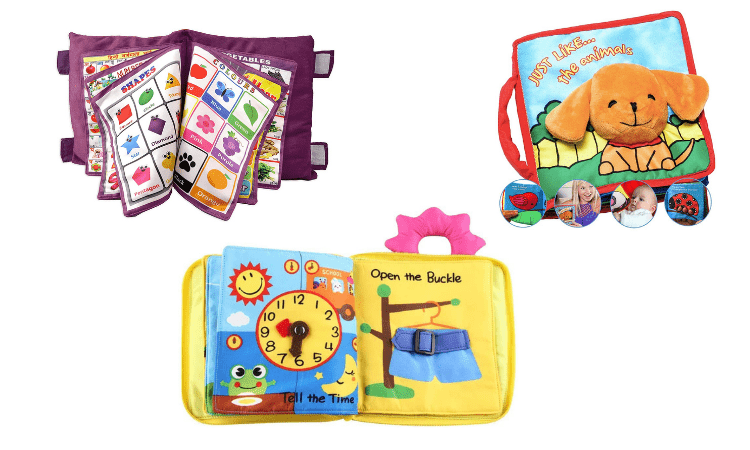 Reading to babies is very important for their language and vocabulary development. Look for soft, cloth books or durable board books with fabric spots for the baby to touch while they look at the picture and hear new words while you read.
The more words we expose them to, the more we speak to them, the more connected they are to the world around us.
Books are truly the best gift that we can give to our little ones.
I remember that I started reading to my son when he was in my womb. There were people around me who made fun of me. However, sometimes just following your heart is the best thing to do. I am glad that I did this. My son who is four years old now is a huge book lover and has started to read a few small books himself. 
PAT PAT Soft Baby Cloth Book, SNOWIE SOFT Premium Baby Cloth Book, and Keshav Creation Printed Velvet Learning Baby Pillow are some great options for soft books.
Teethers
Once babies learn to love rattles, you will see them begin to explore with their hands, feet, and mouth. Always supervise babies when they are playing. Babies like to explore toys with their senses, including their mouths. These toys also provide comfort to their gums if they have new teeth emerging. Teethers can reduce the pain and help to keep our babies calm. A calm baby means a happy parent.
BabyGo Silicone BPA Free Natural Organic Nipple Teethers, LuvLap Baby Food and Fruit Feeder Cum Nibbler, and Chicco Fresh Relax Teether for Baby are some teethers that you can check out for your little ones.
Sleep Toys
Babies like to sleep, but they also need to learn to sleep at different times as part of their nap and nighttime routines. Many sleep toys include soft, plush stuffed animals that play different lullabies and sounds to help the baby know it is time to rest. I remember how my son, Veer, loved going to bed with his cow-stuffed toy. He also fed his cow before we put him to sleep next to him. These memories of little Veer still make me smile.
Funblast New-Born Toy-Little Angel Baby Sleep Star Plastic Projector, DIKANG Reversible Octopus Plush Stuffed Animal Soft Toy and SCOOBA Giraffe Animal Soft Toy are super cute sleep toys that your child will love. 
I hope that this list will make your life a little easier and keep your child entertained. Honestly, these toys go a long way in shaping our children's personalities. They influence our kids in so many positive ways. The most important being that they make our kids happy and a happy nurturing environment is what our children need to thrive. Expose your kids to these toys and have fun raising little geniuses. The more we interact with them and the more we expose them to new experiences, the more they will learn and grow.